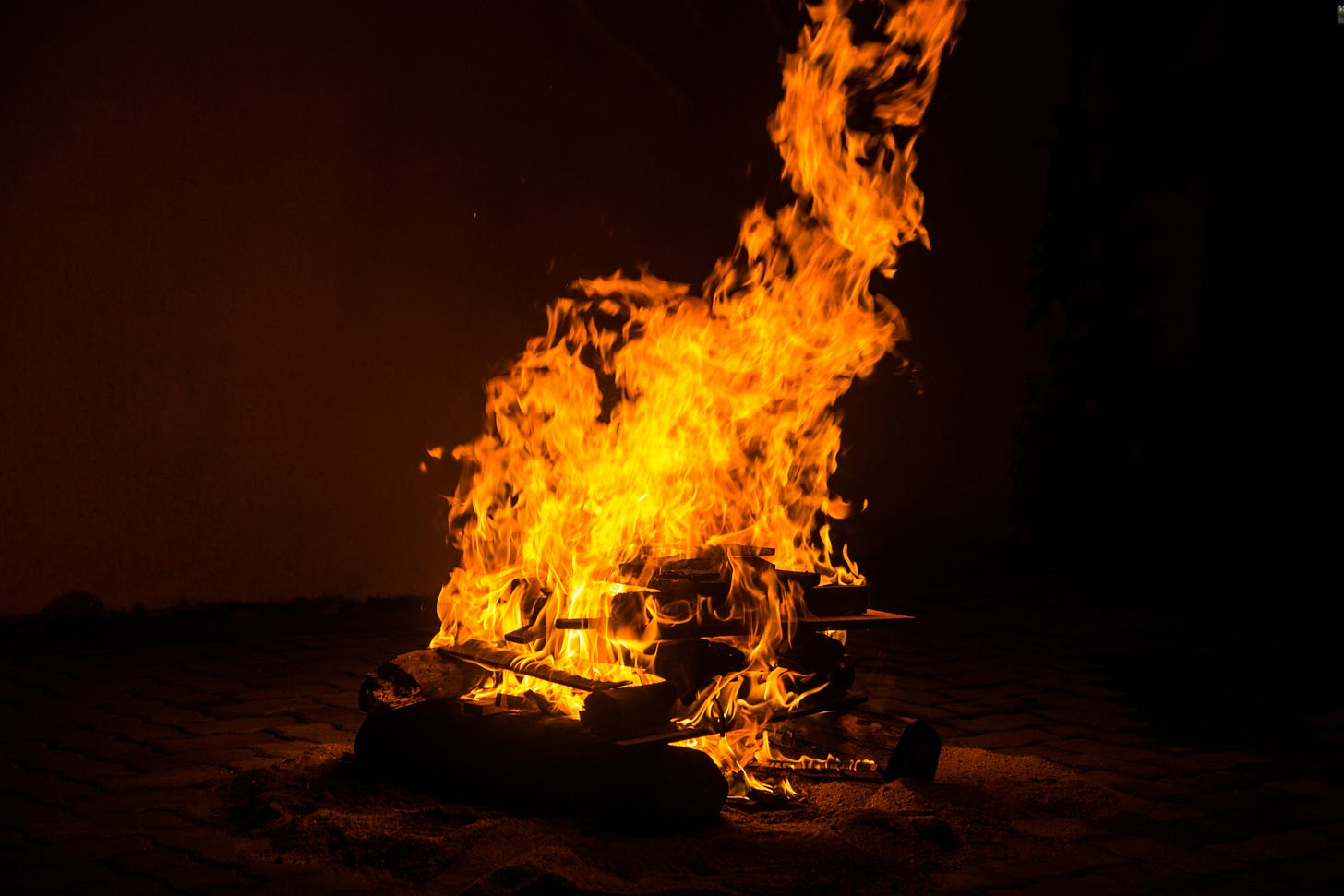 "Spring is strictly sentimental, self-regarding; but I burn more careless in the autumn bonfire"
— Sylvia Townsend Warner
We knocked around the local shops and factories looking for wood to burn, raided skips for discarded furniture, and went door to door asking "anything for the bonfire?" Somehow, there was always a trolley to wheel our spoils up to the site — the small patch of grass around the corner from my house, separated from the motorway by a grey, steel fence — where another faction of the group stood guard for rival collectors. With the beginning of autumn came momentum after a long idle summer; a project to throw ourselves into. We organised, adapted, collected and constructed. We were architects.
During Samhain, bonfires were traditionally lit on hilltops. They were said to mimic the sun, to burn away harmful influences, and to help ward off the darkness and cold of winter. I didn't understand the tradition in these terms — mostly it was just something to do — but when the bonfire was lit, and our weeks of hard work went up in flames, I knew that something significant was occurring. Our community rarely gathered in these kinds of numbers, but on Halloween night every year, we marked the start of winter together, cheering as our discarded possessions were set alight.
Our bonfires were small compared to others in the area, so the guards and the council usually left us alone. One year, the fire brigade arrived a week before Halloween and soaked the pallets that took us a month to collect. It rained all week, but we collected new wood anyway. There was a sense of purpose, of movement. Adults laughed as we wheeled sofas past them, and remembered their days of collecting too. They told us about their own bonfires, exaggerating their size in the same way that I probably do now, before donating an old chest of drawers or kitchen cabinet.
I don't see any bonfires where I live now, but the theatrics of autumn are there if I'm looking for them; the smell of smoke billowing from the chimneys of houses, the red and orange leaves heaped under trees or at the bottom of gardens. The weeks before the bonfire stretched endlessly, but I know now that autumn is short. Spend too much time mourning summer and before you know it you're panic-buying Christmas presents. We're awarded a sliver of time to breathe, to remember that time is passing. In spring, the leaves and buds will return again, even if normality is still a little way off.
Every year I make an autumn playlist. A list of songs that have the ethereal quality of being 'autumnal' —something I've found difficult to identify fully in musical terms. Organs are autumnal. Bon Iver is autumnal. The Killing Moon by Echo and the Bunnymen is autumnal. There's no real rhyme or reason to this week's playlist, except that it can be enjoyed on a walk in your 5k area, or while the rain bates your windows on an October morning.
Thank you to everyone who has subbed to this newsletter so far, you're all dreams. If you're into supporting my writing, playlisting and podcasting, you can subscribe for a fiver a month here on Substack. Also, I have a Twitter, and a podcast, if you're into that sort of thing.
Lots of love,
Andrea x