Friendship ended with journals, now playlists are my best friend.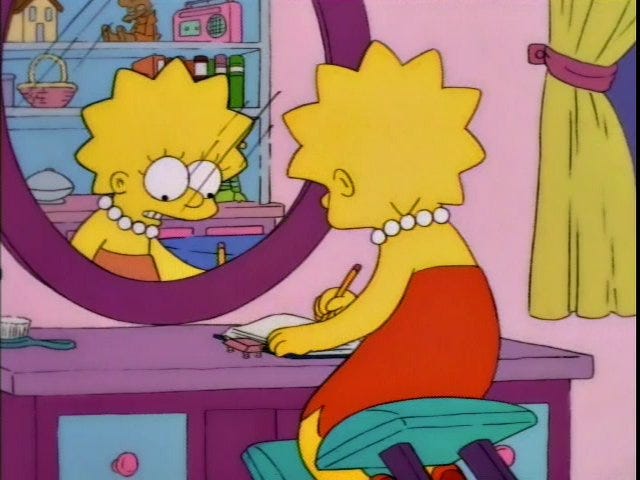 "Dear Log: Can it be true? Do all Simpsons go through a process of"dumbening"? Wait. That's not how you spell "dumbening". Wait, "Dumbening" isn't even a word! I've got to find out more".
I've tried journaling.
I've set a ten-minute timer on my phone, opened a notebook, and tried to sum up the events or emotions of a single day on the page. Despite the fact that I currently, somehow, write for a living, I'm actually pretty useless at this.
For me, that kind of writing often requires the drafting of a pre-to-do list to-do list. I can't possibly journal my very important and astute thoughts, for instance, while the bed isn't made, or while emails are unanswered. (Note: this block applies only to personal writing. I can, for example, sit happily in a messy room watching hours of Nevermind The Buzzcocks clips from fifteen years ago).
No, if I am to write my memoirs, every single other aspect of my day must be tidied away to make space for my very profound self-analysis.
Is it any wonder I never do it?
What's worse is that my journal entries have very little to do with the little voice in my head, trying her best to get out into the world. I've read old diary entries where I am painfully trying to sound, well, writer-y. As though some archivist 100 years in the future will unearth them, rush to a publishing house, and demand that my 'early writings' were published for all to read. 'Here we see the early experiments in her style', they'll say. 'Observe how she can make even the most mundane aspects of life seem so philosophical'.
Music, on the other hand, requires only a working pair of ears. The rest of the body is free to roam, potter about, or just sit in some kind of fugue state. It's a kind of meditation that doesn't need to be earned, that doesn't require a candle, some incense, or the kind of peace and quiet enjoyed only by the fabulously wealthy. Schedules don't need clearing, and you can move around your life, earphones happily shoved in, ignoring your filthy oven and terrible life.
I started making monthly playlists five years ago. Practically, it helped me keep track of music I was writing about, as well as big pop culture moments that ended up defining large chunks of the year. Beyoncé released Lemonade? — here are three songs from the album to remind my future-self that I was there when it happened. Boss was a dickhead? — Dolly Parton. Heartbroken? — Joni Mitchell, Fleetwood Mac, Beyoncé again. Before long, I was adding to these playlists every day, reshuffling tracks, identifying themes or narratives, and even marking events with secret songs that would trigger my memory — only my memory — when revisited later.
I was, without knowing it, curating the soundtrack to my twenties. The songs that I moved house to were clustered together alongside albums that played over the hour-long commute to the worst job I ever had. Can I describe the feeling of an imminent break up in 1000 words or less? Probably, but a more time-effective solution is a month's playlist upon which Bon Iver's 'Over Soon' appears four times. Thirty sad, angry, helpless tracks can be added in a frenzy during a particularly bad day, while a single song can sum up a weekend spent falling in love.
There's no hiding in these playlists. Unlike a diary, I can't be cryptic -- not really. Diaries leave room for alteration, self-editing, and for secretively twisting the narrative, lest a third party stumble upon it and learn that actually, on occasion, I can be an asshole.
And unlike a diary, I can be a complete narcissistic wanker, without being such a writer about the whole thing.
Someone might listen to a playlist that I've curated without the faintest idea what these songs mean to me, while I can't escape, through ambiguous wording, the rawness of actually being there. I don't write the songs, sure, but I do decide what they mean. 
So here I am now with my Substack, my little newsletter, sharing my playlist diaries with you, dear reader. I have a playlist for every possible life scenario — some real, most imaginary — and I'd like to tell you about them. To start, here is a playlist of ten songs that have been present for important, visceral, brilliant, terrible moments in my life. Yes, some of them are clichés, but I'm relying on you not to judge me for that.
You can follow this substack for future playlists and some writing from me to you, directly into your email inbox. If you like what I do on my podcast with Nialler9, or enjoy my music and culture writing in the papers, this could be a nice opportunity to support me. No pressure though, feel free to just stay for the music.